SuperEasy® in Financial Review's Smart Investor October Edition 2012
Financial Review's Smart Investor's October edition brought to it's readers a comprehensive article about Self Managed Superannuation Funds ("The Help" page 31). All together 36 SMSF service providers were bench marked but only 11 were featured and presented in three main categories: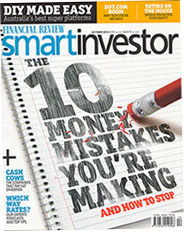 Best high-balance SMSF Administration Providers

Best SMSF Administration Providers - $250,000 plus
Best Low-Balance SMSF Administration Providers
The Smart Investor benchmark test and subsequent rating was based on important and relevant SMSF industry benchmarks such as: time in the market, number of SMSF funds on the books, qualification and expertise of the administration team, spectrum of services offered, including compliance auditing, tax management, pension establishment and technical advice and cost of the services.
SuperEasy® was rated the best service provider in the bracket of "Best SMSF Administration Providers - $250,000 and plus", with the Smart Investor rating of 82. To put this rating in context it is important to mention that the highest rating given for all three categories was 83, making SuperEasy® number one in its own category, and second best among all the reviewed companies.
SuperEasy® has been providing SMSF services since 2000. It is important to mention that SuperEasy® was one of the very first service providers who made the SMSF financial option available to the wider community with its accessible pricing. The SMSF establishment at the time was available at around $1000 - $3000 while SuperEasy® charged $445 (all documentation inclusive), and also with the availability of technical/accounting advice inclusive in the annual administration fee, which remains the same today.
SuperEasy® is privately owned and doesn't provide financial advice or endorses services providers that are not of the highest quality and complimentary to the suite of SuperEasy products.
If you wish to find out more about SuperEasy® and our services, please call us on 1300 554 333. You can read the article in full from the Smart Investor web site.